Panorama St. 1
Dauis
Bohol 6339
Philippines
Telephone: +63 (38) 5023106
We build, develop and sell real estate property on Panglao Island. At this time we are happy to offer to you:
A finished and ready to move in Apartment with breathtaking view over Bohol
and
House and Lot in a nice small subdivision with seaview.
About the Apartment for sale
A picture says more then 1000 words, what more many pictures can tell you. Watch the slide show...
Location in Bohol on Panglao Island:
Bohol now is discovered as a mayor tourist destination of the Philippines.
The progress and development is really visible and this is
one important indicator for increasing value of real estate in Bohol and
especially in Panglao Island, because of it´s nices white beaches and
dive spots the center of Bohol´s tourism development.
Roads, water and electricity supply gets improved very fast and
a new international airport will come soon. Here you find the whole
infrastructure which is neccessary for a comfortable (civilized) life:
airport (1hr to Manila), seaport (2 hrs to Cebu), shopping malls, schools, hospitals, etc.
There are already many foreigners on Bohol and especially on Panglao Island,
who enjoy the steady ongoing improvement of food supply.
Here are many things already available, you will find otherwise only in Cebu or Manila.
The apartment is located in Dauis, beside Bohol Vantage Resort,
overlooking Bohol and the neighboring islands, between the beautiful
white beaches of Panglao Island and just five kilometers away
from Tagbilaran, the capital city of Bohol.
This place offers to you the most beautiful unobstructable panoramic view
of 210 degrees over the whole central Visayas, from Negros and Cebu,
the whole southcoast of Bohol and big parts of the inland,
Camiguin Island, Pamilacan Island and also Mindanao. Because of this unique
location with the magnificent and unobstructable view, it is already a safe
investment which will be easy to sell in the future, if neccessary.
Beside this, the building may be called also "Magnitude 7.2 Earthquake safe".

Because of the elevation (about 140 m above sea level),
there is most of the time a nice breeze that cools down and
keeps most mosquitoes from lower areas away.
Location beside the Bohol Vantage Resort

The location beside the Bohol Vantage Resort,
a small but fine 14-rooms resort, offers many advantages to the owners of the apartments:
Use of pool
You may use also the pool of the resort. There you will not meet always the same
people of the other apartments. You may make new friends with guests of the hotel.
–What is more boring, than always the same people around the pool?
Restaurant
The restaurant of the resort is just a few steps away and
is also open to the apartment owners. –Dine-in and feel like at home!
Hotelrooms
People who own a nice apartment immediately have plenty of friends
who want to visit them. If there are too many friends,
you have the chance to accommodate them in the resort.
No need to spend huge amount of money for guestrooms.
Enjoy this space on your own!
Safety
Even Bohol is a very safe place, it is good that your apartment
never will be unattended. The resort and the apartments are guarded 24/7.
– So it is no problem to leave your apartment alone, even for a long period.
Facts
Size
The size of the apartment is 250 sqm.
Floorplan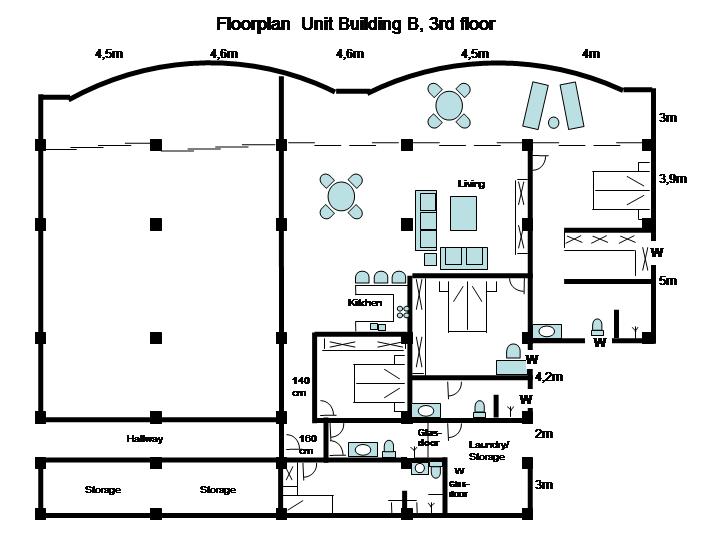 Infrastructure
Waterconnection to the hotel cisterns and public water supply
Electricity
Internet-Connection
Cable TV
Equipment

The apartment is semi-furnished and has:
• 4 Bedrooms (1 Masterbedroom, 2 Guestbedrooms and 1 Maidbedroom)
• 3 Bathrooms with granite basin counter and shower,
• 1 Bathroom for maid with shower, basin and toilet
• kitchen with granite top counter, mahogany doors, baking oven,
• electric cooking plates, range hood and bar counter, cabinets in 2 bedrooms,
• 5 Split type aircons (in each bedroom one plus living area)
• ceilling-spotlights and
• large sliding doors to the view side.
Not included are:
Furniture and all kinds of additional appliances or electrical devices,

Charges:
Individual billing for electricity, water, TV, Internet and Telefone
Monthly maintanance fee 11,50 Pesos / sqm (since Sep. 2010 not increased) for guard, pooluse and gardening.

Ownership
Are you a foreigner? As a foreigner you are not allowed to own land in the Philippines,
only the building on it. The apartment is the solution for you to take part in an upmarket investment.
It is 100% your´s!
Purchasing
Try out before you buy
Before you make the decision to buy the apartment, you may try out the location and find out if you like to live here just by staying in the neighboring hotel. Information about the Bohol Vantage Resort you find here: vantageresort.com
Payment scheme
• 50,000 Pesos downpayment as reservation fee
• 50 % of the selling price during the following 30 days after downpayment
• Remaining balance upon turn-over and signing the Deed of sale.
Selling price: 11,980,000 Pesos